Spider Awards 2018
J'ai l'honneur cette année d'être parmi les finalistes de la 13e édition du "Black and White Spider Awards". Ce concours international de photographie est un incontournable pour les amoureux du noir et blanc. Les résultats ont été diffusés le 10 novembre 2018 lors de la cérémonie officielle sur le web. Ma photo, "Carousel" a reçu une nomination dans la catégorie "Professional – Fine Art".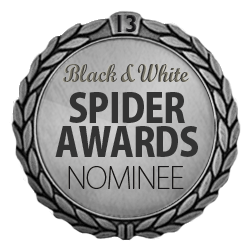 https://www.thespiderawards.com/gallery/13th/professional/fine-art
PRESS RELEASE:
13TH ANNUAL BLACK AND WHITE SPIDER AWARDS HONORS PHOTOGRAPHER VÉRONIQUE GOHIER FROM CANADA
LOS ANGELES November 11, 2018 – Professional photographer Véronique Gohier of Canada was presented with the 13th Annual Black and White Spider Awards Nominee title in the category of Fine Art at a prestigious Nomination & Winners PhotoShow streamed Saturday, November 10, 2018.
The live online gala was attended by over 17,000 photography fans around the globe who logged on to watch the climax of the industry's most important event for black and white photography. 13th Annual Jury members included captains of the industry from Penguin Random House, London; Contrasto Galleria, Milan; Young & Rubicam, Lima; Harper's Bazaar, UK; Victoria Film Festival, Canada; Aeroplastics Contemporary, Brussels; Silvan Faessler Fine Art, Zurich; Time Inc., London; Galerie Hubert Winter, Vienna; Conny Dietzschold Galleries, Cologne; and Fratelli Alinari Photography Museum in Florence who honored Spider Fellows with 692 coveted title awards and 952 nominees in 32 categories.
"Once again, another stunning collection of high quality entries both professional and amateur. It's always inspiring to see this classic medium being stretched into new and interesting directions." Said juror Marcel Wijnen, Creative Director at Anthem Worldwide/Marque Branding in Sydney. Cultural Heritage Consultant Andrea de Polo from Fratelli Alinari Photography Museum in Florence added "The quality of work is incredible and for the jury selecting the best images is very hard work."
"It's an incredible achievement to be selected among the best from the 6,404 entries we received this year" said Basil O'Brien, the awards Creative Director. "Véronique Gohier's "Carousel," an exceptional image entered in the Fine Art category, represents black and white photography at its finest, and we're pleased to present her with the title of Nominee."
BLACK AND WHITE SPIDER AWARDS is the leading international award honoring excellence in black and white photography. This celebrated event shines a spotlight on the best professional and amateur photographers worldwide and honors the finest images with the highest achievements in black and white photography. http://www.thespiderawards.com